Self confidence tips for female entrepreneurs – An interview with Girl Gang
3 July 2019
I was kindly approached by Chelsea Cox of Well Defined to discuss all things self confidence, juggling your own business & being a mum and I thought you may like to have a read. Let me know if any of these tips resonated with you.
Hi Ange, thanks so much for being involved in The Girl Gang Chat! Please introduce yourself to the Girl Gang: Hey, I'm Ange and I'm a Marketing Coach and Founder of Boomfly, a creative agency for female entrepreneurs and small businesses.
What do you love most about your business?
It has to be seeing the transformation of people during the coaching or branding journey. Usually, they come to me when they're feeling a little lost with their business and getting the wrong type of customer through the door. It can be overwhelming for them but then you go through the creative coaching process or create a brand that totally encompasses what they're about, you just watch them glow! Delivering someone a brand, website, or marketing skills they can be proud of, gives them the confidence to go out and succeed and is exactly why I do what I do.
As the face of your own brand, did you have to work on your self confidence?
Yes and no! I was a radio presenter for many years and during that time worked a lot on putting myself out there, especially when it came to hosting live events or meet and greets. I learned that people will either like you or loathe you no matter what you do, we can't all be everyone's cup of tea, and there's really nothing you can do about it so it's best to just keep doing you. When it came to being the face of my own business, that felt a little scary and I definitely placed more pressure on myself during that first year. Now in Year 3, I feel much more relaxed about it and wholly accept that regardless of how fast the digital landscape might change, people will still always buy from people so you need to be there as the face of your business – show up and just be unapologetically who you are. If they don't like you, they're not your people.
Touching on self confidence, do you see a big difference in this between your male & female clients? If so, what do you put this down to?
Without out a doubt! When I meet a female entrepreneur for the first time, more often than not I feel they have their head down a little, feeling frustrated or like they're doing something wrong. Usually they have tried to build a website on a free service template format and struggled and used up a lot of time then see it has a failure when they come to me. With my male clients, they come to me and say "I know exactly what I'm doing with my business or the product I'm selling but I need a marketing expert or designer to do xyz for me" and off we go. As women, we are used to trying to be everything and do all the things but guess what, we don't have to! We all have skills we can bring to each other and its absolutely not a failure to create a tribe of super talented women that bring different things to the table.
How do you cope juggling being a mum and having your own business?
Now there's a question. I think we all juggle life and business in one way or another, whether that's running around after family members, illnesses, dogs or side-hustles, we've all got it going on. Having said that, of course it's difficult to be in two places at once and give both your full attention so I have an amazing childcare support and ensure that on the days I am with my little one, I'm fully present. Phone goes away and I'm down on her level, usually being official snack holder and being told how to perform various Disney scenes.

As a mum myself, I really had to work on "the guilt" of working, is this something you have had to work on and if so what advice would you give other mums struggling with this?
It takes a lot of work. I recently attended Alice Benham's Gather + Grow retreat and a big thing that came up for me over and over was the guilt I was holding on to when it came to being a mum in business. You just have to let it go and remember you are amazing and totally worthy of being your own success. You aren't just a mum, you're still yourself too and it's important to still take time to be that and look for your own goals. Don't get me wrong, it's so hard when I work away with clients and she is all "why must you work mamma" eyes but Daddy doesn't get that so she can suck it up and I'll always be back! I try to remember, she's looking up to me so I'm going to show her what women can do when they want it.
I would love to get your top 3 tips for someone thinking of starting their own business?
Stop putting it off because it seems huge. Just take that first step towards the big thing and keep going, one day at a time.
You can't do everything. You're going to need support so find people that get you and what you want to achieve and build bonds with them.
Do not work 12-hour days every dam day of the week. You can build a successful business and still sleep and rest! You need to look after yourself first because you are your main business asset.
What services do you offer that could help someone taking their first steps in to self employment?
I facilitate female entrepreneurs with their online presence so if you need a strong brand that sells your business for you, a website that wows or a marketing campaign to get the word out there – I'm your girl.
Could you recommend any business resources to the Girl Gang?
I absolutely love @sophiefrenchcreative for getting rid of the can't in your head, The Brand Stylist books for helping to find your business niche (I did the promo and launch for her second book so I'm a little biased!) and Seth Godin's blog for marketing advice. Also, @vixmeldrew has launched a Grow + Glow community for bloggers and influencers and the info she is sharing is incredible. There's not much she doesn't know about the industry and her brain is well worth picking – go sign up for the next cohort!
And finally Ange, what is your "me time" moment?
I make sure to fit in a walk each day in the fresh air and a Zumba class at least once a week haha I love those Latin vibes and my absolute me time moment is an hour with a Disaronno and coke, candles and a great book.
---
---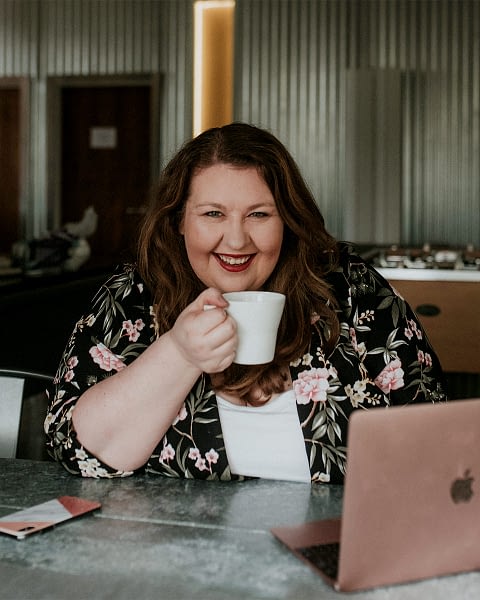 A Business & Marketing Consultant sharing gentle truths and BS-free advice and insight. I help business owners do things their way. If you'd like to contribute to my blog, drop me an email - I'm a big collaboration fan!